I've always fancied myself as the perfect sleeping mate. I pretty much fall asleep as soon as my head hits the pillow. I then stay in a little ball on my side of the bed for the remainder of the night.
My partner on the other hand flopped around like a fish out of water the entire night. I needed to find the best mattress for couples who toss and turn as quickly as possible!
"As an Amazon Associate, we may earn commissions from qualifying purchases made through links in this post"
I did not want to get a mattress from one of those local mattress giants with prices so ridiculously high that you literally have to apply for financing. Therefore, I scoured the internet for hours looking for the best mattress for minimal partner disturbance.
Comparison Table of Top Mattresses for Couples Who Toss and Turn
Be sure to read through entire article for additional information on the above recommendations.
Review of the Best Mattresses for Couples Who Toss & Turn
To ensure that you select the best mattress for minimal partner disturbance, we have compiled a list of some of the best products available. Check them out below.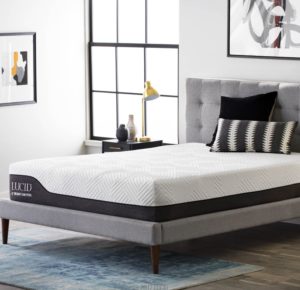 The LUCID 12 Inch Hybrid Mattress features individually-encased (coils) springs combined with foam layers. The coils work to isolate movement and align your spine to relieve pressure points as you sleep.
The foam layers are infused with bamboo charcoal and aloe vera. These infusions work to regulate moisture and fight odors so that you wake up feeling more rejuvenated.
Pros
– Bamboo charcoal and aloe vera infusions minimize odors associated with memory foam
– Comes with a two-tone circular knit fabric cover
– Dual transition layers of memory foam help create an even feel
Cons
– Lack of support around bed edges
– May be too firm for those accustomed to a plusher mattress
---
The Vibe 12-inch Gel Memory Foam Mattress is self-ventilating and offers you maximum breathability. The gel-supportive and foam layers support the body and provide a stable foundation.
This mattress is great for a "hot sleeper" as the gel draws heat from the body. This makes for a cooler sleep surface which lessens the tossing and turning that may keep your partner awake.
Pros
– Gel memory foam provides even, individual support
– Low cost without sacrificing quality or comfort
– Adjustable base friendly
Cons
– May not be able to properly support heavier couples
– May not inflate to the full 12 inches
---
The Signature Design by Ashley mattress is another contender for best mattress for partners who toss and turn. It is a hybrid mattress consisting of 3 different layers of foam and two rows of individually wrapped coils.
The gel memory foam layers works to provide restorative support for your back. The hypoallergenic material of this mattress is perfect for allergy sufferers.
Pros
– Compatible with all bases & frames (including floor)
– Made of hypoallergenic materials
– 805 individual packed wrapped coils for maximum back support
Cons
– May be too soft for those preferring a firmer mattress
– May begin to sink in the middle with time
---
The Zinus 12 Inch will prove to be a good mattress for minimal partner disturbance. The gel-infused Green tea memory foam allows you to be cool and comfortable, leading to a restful sleep.
This mattress is also infused with natural active charcoal along with green tea extract to absorb and eliminate odors.
The Zinus carries the CertiPUR-US seal which is given by an independent laboratory. This certifies that the mattress meets specific criteria for physical performance and indoor emissions.
Pros
– Ideal for all types of sleepers (back, tummy, side)
– Expands to the full 12 inches
– Certified for durability and performance
Cons
– May not fully expand if not opened within 72 hours
– Corners may not hold fitted sheets well
---
The Linenspa 10 Inch mattress is a medium feel mattress that is not too firm and not too soft. The firmness level is quite neutral so this mattress is a great compromise for couples with different firmness preferences.
At 10 inches it is ideal for shorter couples that may be seeking a lower profile bed. As a hybrid mattress it is combined with the support of innerspring with the plush comfort of memory foam.
Pros
– Spring and memory foam combo provides comfort and support
– Affordable without sacrificing quality
Cons
– Not suitable for heavier couples
– May not be as motion isolating as other options in article
---
Factors to Consider in Choosing the Best Mattress for Minimal Partner Disturbance
It's great to begin the mission of ending your tumultuous tossing and turning all night routine. But what features should you be looking for in the best mattress for couples who toss and turn?
1. Mattress Construction & Tailoring
– Memory foam conforms to your body. This is great for people who "run hot" as the properties of memory foam actually cause it to soften as your body heats up.
Because memory foam is dense, it absorbs your tossing and turning movements at night. This makes it less likely to feel your partner moving around and disturbing your sleep.
– Gel or Gel-infused Foam mattresses also consist of memory foam. They give all the benefits of the traditional memory foam mattress but the gel-infused property allows your body heat to escape.
The enhanced air circulation feature of the gel helps to alleviate the trapped feeling some people experience with traditional memory foam.
– Hybrid innerspring mattresses combine the feel of a traditional innerspring mattress (like the mattress you may have had when you were younger) with memory foam.
We may like the feel of a traditional innerspring mattress the first few months but eventually you start to feel those springs dig into you.
Also, many purely innerspring mattress either had absolutely no give or were so soft you awakened feeling with a sore back.
The beauty of the hybrid mattress is that you get the pressure point relieving benefits of memory foam combined with the tension and support offered by the innersprings. This makes it a good choice mattress for heavier weights.
2. Mattress Thickness
While the construction of the mattress is paramount, mattress thickness should also be considered. The normal thickness range of a mattress is between 9-12 inches.
A 10 inch mattress would be acceptable for a lighter weight or shorter couple. Any mattress below 10 inches is only suitable for a single person, a child or for short term use in a guest room.
The best mattress for couples who toss and turn should be at least 12 inches thick. A thicker mattress is good for minimal partner disturbance. The thicker material will absorb the motion of your partner and reduce motion transfer.
What Issues are Associated With a Bad Night of Sleep?
We've all heard of the saying that someone "woke up on the wrong side of the bed". This is usually in response to someone having an awful attitude at the start of the day.
While grumpiness is indeed an unpleasant side effect of lack of sleep, it in itself is not an immediate health or safety concern. There are however a couple of potentially dangerous effects such as:
1. Drowsiness – The National Highway Traffic Safety Administration estimates that 50,000 people were injured and nearly 800 deaths occurred in police-reported crashes involving drowsy drivers in 2017.
2. Lack of alertness – Many of the 882,730 occupational injuries that took place in 2017, can be attributed to those who suffered from a lack of alertness due to sleep deprivation. In fact, according to a team of British Researchers a lack of alertness also seems to be as dangerous as smoking.
Relationship Issues
We pointed out earlier that grumpiness is not an immediate health concern. It can however cause relationship stress if it is causing you to become moody and argumentative with your partner.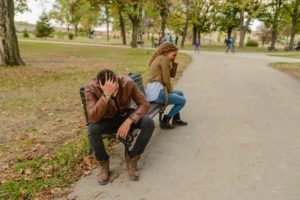 Lack of sleep also causes you to have decreased energy, so you may not feel like participating in normal activities. Your partner can become resentful if they are the only one doing housework because you are too exhausted.
Related Article: 8 Reasons Your Husband Doesn't Do Anything Around The House
You're quality of life may also suffer as you frequently decline outings due to your constant lack of energy from restless sleep.
If both of you are tossing and turning all night due to a bad mattress, then you have two people who are sleep-deprived and in terrible moods – A RECIPE FOR DISASTER!
My Final Thoughts
If you were like my partner and I, you just want to get a good night's sleep. Luckily, I have poured through hours upon hours of research to find the best mattress for couples who toss and turn so you won't have to!
Here's to you needing two alarm clocks to drag you away from your new comfy mattress!
Click Here to Review or Purchase Our Top Pick (LUCID 12 Inch Hybrid) on Amazon!