Nothing can leave a more beautiful touch in our hearts than the time we spend together as a family. Although there are many electronic devices for entertainment, you may still hear your children say "we feel bored".
This sentence sounds ordinary to many families. The parent tries to come up with ideas to cure boredom but it always seems difficult. There are many things families do together at home that can be enjoyable for everyone.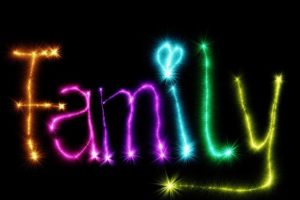 We are here today to make this easy. We will offer many activities that the family can do together and have a lot of fun. This does not mean blowing a big budget or bringing a lot of expensive toys.
Free time is more enjoyable if we organize some family activities. It just takes a little organization during the week as well as a willingness to have fun and a touch of creativity.
Family Activity Ideas To Do Together At Home
These family activities are based on the importance of enjoying each other's company and appreciating the joy of being part of the same family.
1- Put on a talent show
This one is my absolute favorite because it is something that my family did every year! Everyone has something that they are good at or enjoy doing.
You can sing or rap your favorite song. If your child knows all of the latest dance moves they can perform them for the family. 
"As an Amazon Associate, we may earn commissions from qualifying purchases made through links in this post"
2- Organize a family party
Why should parties be restricted to birthdays and holidays? It is perfect every day of the year to have fun with loud music, songs, dance, and excitement. A party doesn't always have to be an occasion, organize a small party with your children.
Arranging a family party together at home doesn't require much. Just use your creativity to spend more quality time with family members; it is certainly going to be a beautiful memory.
What can be done at the party?
You can sing, dance and get down with some Karaoke together. 
Gather your instruments, drum, keyboard, a bucket, a set of keys, etc. Then, go ahead and organize a small family concert!
Wearing Halloween costumes makes it interesting.
Nothing better than having photos and videos of a moment like this to be recorded in the family history. 
Remembering and talking about entertaining family moments is an enriching experience for parents and children.
It is a great chance to share this moment with those friends who are important to you on social media.
3- Reading together
Sitting quietly on the sofa and reading together is one of the things families do together at home. This is a great leisure activity where children feel comfortable and secure.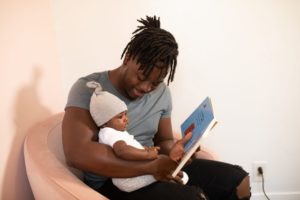 Reading together is a wonderful and beneficial activity for all family members. Choose an interesting book and read aloud. Reading aloud stimulates conversations and influences the vocabulary and text comprehension. Besides, children can learn good values and behaviors through storytelling.
4- Baking and Cooking together
Kids love to knead dough with both hands and then roll it flat with a rolling pin. It is a great joy for the little ones to make cookies and watch them come to life through the oven glass. 
Let the little gourmets help out in the kitchen. Children prefer to eat dishes if they have selected the ingredients themselves when shopping. Then they are more enthusiastic to help prepare the dishes.
For inspiration, here are a few dishes that contain vegetables and are well received by children:
Pasta with different sauces: 
Penne, spaghetti or tortellini taste good for every child and are quickly cooked. The classic tomato sauce and homemade pesto are particularly popular with children. 
Mexican wraps: 
The children fill their wraps exactly according to their taste with mild cheese, tomatoes, crispy lettuce, colored beans, bell pepper, corn, tender chicken or other delicacies. 
Pizza: 
The Italian national dish is quickly homemade and can be served with all kinds of fresh vegetables. We like to buy packages of pre-made naan bread to use as the dough.
You can then shred vegetables together and cook the tomato sauce or buy a quality jarred pizza sauce. Kids especially enjoy this experience as everyone will have their own mini pizza.
5- Doing impressions
An activity that is sure to bring lots of laughs is to do celebrity impressions. Also doing  impressions of one another is guaranteed to be a good time. Make it a game by having everyone guess who the person is that is being impersonated! 
6- Doing sports together
There are countless ways to do sports with children even with babies.  They can be pushed in the stroller or used as a weight for exercises like squats. 
Children love gymnastics, swimming, and bike riding with parents. But even jumping around like frogs can be really sporty.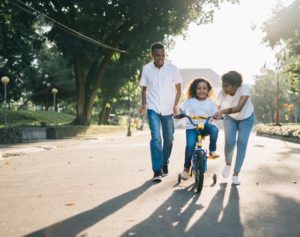 In addition to having a fun time spent together as a family, sports will bring great benefits to children and adults. It will strengthen children's muscles and make them more active. Besides, it will allow you to get closer and show them your silly side.
If your kids are extremely hyper, then yoga, relaxation and stretching exercises are a good bet. You can find courses in yoga and meditation for adults with children on the internet. Gaiam makes a great kid's yoga mat that includes a free downloadable yoga class specifically make for kids!
You do not have to leave your home, which is a great thing that you should definitely try. Over time, your kids will feel how beneficial the combination of exercise and relaxation is.
What if my child doesn't like sports
Some kids do not like sports, but you can make it exciting by racing. Children are often enthusiastic about racing, such as who can do more push-ups in one minute. Try placing several items around the room, then have a race on how quickly they can be retrieved and be put back into a basket.
7- Have a fashion show
Another fun thing for families to do together at home is putting on a fashion show. My family did this every year to show off our new clothes for the school year. But you do not have to save this for showing off back to school clothing.
Your family can put on a fashion show anytime. You can make it fun for everyone (even the boys) by putting a spin on it by adding crazy categories such as:
Wacky pajamas
Most mis-matched
Backwards clothing
Halloween costumes
8- Create a photo book
Search through your cell phone or camera pictures for photos of great experiences and special moments and create a photo book – for yourself or as a gift for your loved ones. Friends and family alike look forward to a photo book with memories of beautiful shared moments.
Let your creativity run wild: 
In a holiday photo book; present unforgettable holiday pictures. A pregnancy or baby book records the impressions of a new phase of life.
In a sports photo book you can show off your sporting success. Look for great snapshots and funny snapshots from your childhood and prepare a photo book with childhood memories.
Your children will be very happy when they listen to the exciting stories behind each picture and get to know you more through your childhood adventures. They will also be interested in pictures when they were born and when they started crawling or walking.
Related Article: Best Non-Baby Gifts For Expecting Parents
9- Do arts and crafts together
If you haven't tried arts and crafts before, it is time for this great experience. This fun activity that families can do together at home will make your children feel proud to produce creative things with their own hands.
It is fun not only for children but for the whole family. You can plan out a specific activity for each day.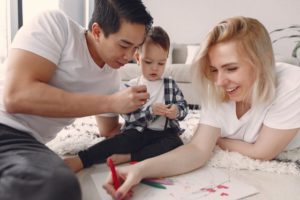 There are no ends to your imagination when doing arts and crafts. Come up with your own ideas or use craft books.
Here are some activities that can inspire you:
– Painting
– DIY toys
– Recycling 
10- Perform a skit
Making a skit or a short play will bring a smile to everyone's face. This is a chance to share your funny dream about an artistic career with each other. 
Our Final Thoughts
In a world that is constantly being taken over by cell phones, tablets and television we have to find other ways to connect. There are plenty of things families do together at home that can allow them to spend quality time together.
The ideas we have presented are a great start. Once your creativity begins to flow you will be sure to come up with more fun activities!