Hey there. Are you a podcast lover hoping to start your own podcast soon? If your answer is yes, then you will need podcast equipment. This recording equipment can be difficult to understand and choose from, especially if you are just beginning.
"As an Amazon Associate, we may earn commissions from qualifying purchases made through links in this post"
If you are one of those wondering what equipment you need to start a podcast, then you are in luck as we will be revealing them all to you in this article. So, come along as we delve deeper and discover all the equipment that makes a podcast successful, shall we?
How Much Does It Cost to Start a Podcast?
The cost of starting your podcast depends on the number and type of equipment to be used. It also depends on how professional you want it to be. You may have some of the equipment needed and might just need to add to the list or replace some defective equipment.
If you are new, then you may have to buy everything. There is no definite answer to the amount to spend on setting up a podcast. However, you should expect to spend as little as $705 and as much as $5,185 (this is assuming you are purchasing everything), if you already have some of the equipment, then you are likely to spend less.
However, despite this estimation, you can start a podcast with almost any budget. You can start with the basic equipment first and add more as you go along.
Do Podcasts Make Money?
Before starting a podcast, one of the questions aspiring podcasters often ask is how profitable is a podcast? Podcasts are profitable if you go about it the right way. 
Ideally, most downloaded podcasts can make as much as $100,000 per month. However, it's not as easy as it seems as many conditions have to be met such as diversification of your podcast's source of income.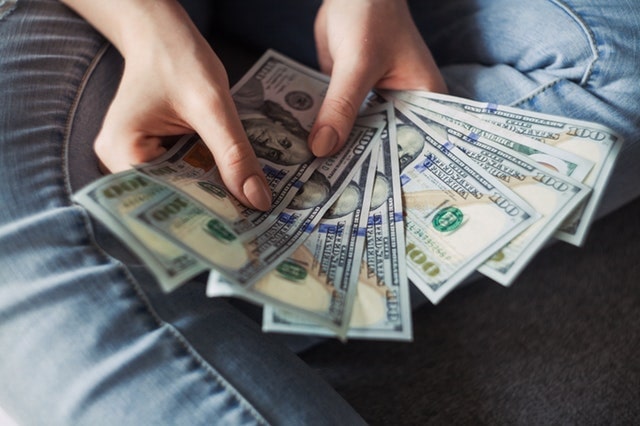 If you wish to earn money from your podcast, then you have to make it as engaging and interesting as possible. It also has to be well-publicized.
Also, consistency and patience are needed. Successful podcasters are those with more than 1,000 listeners per episode. So, yes podcasts do make money but the conditions have to be right.
Equipment You Need to Start a Podcast
What's a podcast without the right equipment? While it can be confusing to sort through the many kinds of equipment available on the market, we have made it easier for you by highlighting the important items required. They include:
1. Computer
You need a computer to enable you to record and upload mp3 files. Most people make do with what they have (which is fine as long as it can open multiple tabs, enable you to add an extra screen, have at least 16GB RAM, along with high graphic power and many other features that will enable you to have  smooth podcasts sessions).
Apple MacBook Pro, Available on Amazon
If you do not already own a computer, then I suggest you purchase either an Apple MacBook Pro or Razer Blade. These are high-quality computers perfect for podcasting.
2. Microphones
While you may want to make do with your computer's in-built microphone, it's best to purchase a USB microphone or one with XLR output. They are easier to use and are more flexible. If you are serious about podcasting, a separate mic is probably the most important piece of equipment you need to start a podcast.
Also, your recording environment determines the type of microphone to purchase. There are two types of microphones: condenser and dynamic. Dynamic mics are better suited for recording more than one person, a good example is Blue Yeti.  For dynamic mics, the Audio-Technica ATR 2100x-USB is a great option to consider as it has both USB and XLR input capabilities.
3. Audio Interface
This device connects your computer to your microphone. It converts the analog signal from your microphone into a digital signal that can be used by the computer. 
The interface is connected via the USB port. They can vary in inputs, outputs, features, quality, and so on. It features mic preamps that are built into the XLR input. The Focusrite Scarlett Solo is a good example of a high-quality USB interface. 
4. Mixer
A mixer is similar to an interface but it gives more control over the outputs, inputs, levels, and lots more. When deciding on the type of mixer to purchase, keep in mind that you need an XLR input for each of the participants in the studio.
Even if it's a solo session, it' s ideal to have an extra XLR mic and input, hence purchase a mixer with more input. An example of a high quality and affordable mixer is the Behringer Xenyx Q1202USB. It has 4 XLR inputs and comes with software you'll need for audio recording and podcasting.
5. Pop Filter/Windscreen
The function of the pop filter or windscreen is to reduce or prevent plosives. To give a clear illustration of what I mean, call out the word "power" with your fist in front of your mouth. Did you feel the air in the "P"? That's what the pop filter prevents. 
These air blasts if not controlled can easily damage your mic. If you are hoping to get the best, then I suggest you go for the  Auphonix Pop Filter.
6. Headphones
Podcast equipment isn't complete without headphones as it prevents many retakes and mistakes. Although it may seem weird to hear yourself speak live at first, you will get used to it as time goes on. 
You don't want to record only to discover there was buzzing noise all along or that something wasn't turned on. For recording purposes, it's best to use closed-back headphones rather than open-back headphones as the latter allows your microphone to pick up sounds. 
Some budget recording headphones to consider include the  Audio Technica ATH-M30x Professional Studio Headphones. If your budget allows for more premium headphones you can't go wrong with the Shure SRH1540 Premium Closed-Back Headphones.
7. Headphone Amplifier
It's not enough to have a superb headphone, you also need a good headphone amplifier so that when you have several hosts, each has their own set of headphones. A headphone amplifier has a dual function in that it acts as a headphone splitter and also an amplifier.
Behringer Microamp HA400 is one product I recommend. There's also the KGUSS BH1 Headphone Amplifier. Both are great products that will give you value for the money spent.
8. Mic Stands
You will need to position your microphone the right way as this will improve your posture as well as improve the sound quality. A high-quality mic-stand or boom arm is flexible enough to allow moving the mic to a more comfortable position. 
It also enables you to free up desk space and store the mic away (albeit within reach) when it's not being used. It helps you record faster and easier. The Heil PL-2T Overhead Broadcast Boom is a mic stand I highly recommend.
9. Shock Mount
Microphones are known to be sensitive to sounds that don't travel through the air. A shock mount reduces or prevents any unwanted sound. 
From noticeable sounds such as tapping a desk or the sound produced when trying to move your boom arm, to the small, unnoticeable sounds such as vibrations, it does a good job of reducing or preventing them. 
An example of a high quality and affordable shock mount is the Koolertron Universal 50MM Microphone Shock Mount. 
10. Microphone Cables
Since you will have to plug in your microphone into your USB or audio interface, preamp or mixer, you need a strong cable that is capable of handling the job. It's no use buying a superb microphone only to pair it with a cheap cable. 
An inferior cable will not only wear out, but it can also pick up interference with irregular electric conductivity. Hence, it is important to invest in a cable that is of high quality. If you are looking to buy a good cable then I suggest the Rapco Horizon microphone cable or the  Planet Waves Classic Series mic cable.
Are Podcast Kits Worth It?
A podcasting kit such as this 2 person Podcast Kit by Soundcraft will definitely get you up and running quickly. After all, time is money.
Going over the different equipment options can certainly be daunting and time-consuming especially for beginners. A podcasting kit or bundle package takes away the stress of putting together equipment you need for a podcast one-by-one.
Our Final Thoughts On What Equipment You Need To Start A Podcast
Beginning your podcast journey is not rocket science. All you need is the right equipment to start your podcast, enough motivation, consistency, and quality content, and before you know it, you are smiling to the bank.
Now that we have reviewed all the products needed to kick start your career as a podcaster, all you need do is purchase these products and begin. Your audience awaits you!
Related Articles: