I have worked a desk job for the majority of my life. Those with more physically demanding jobs may think that us desk jockeys have it easy. However, if you have ever sat at a desk for hours on end, you know that a piece of exercise equipment for legs while sitting could come in quite handy.
"As an Amazon Associate, we may earn commissions from qualifying purchases made through links in this post"
Most of us are familiar with the equipment that can easily be used at the desk for working out the arms and hands. I kept a 5 lb weight and one of those hand grip strengtheners at my desk to use periodically.
I also needed exercise equipment to use at my desk to give my legs a workout. Not only to keep the circulation moving from sitting, but also to make effective use of my time by strengthening my lower body.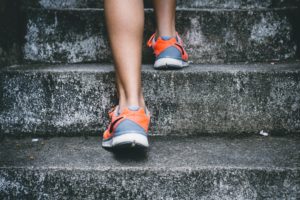 But what is the best equipment that would be effective, easy to use and provide me with results? In this article we will be reviewing some of the best exercise equipment for your legs while sitting.
Quick Glance Of Top Exercise Equipment For Your Legs While Sitting
Review Of The Best Exercise Equipment For Legs While Sitting
To ensure you choose a good product, we have compiled detailed research of some of the top equipment you can use to exercise your legs while sitting. Check them out below.
Key Features
8 Resistance levels
Display monitor to track progress
Ergonomic design
The Cubii Jr. Under Desk Elliptical is a unique machine that lets you stride your way to fitness while seated. If you have problems with knee pain, you will not have an issue as the Cubii Jr. has low impact on your joints.
With 8 levels of resistance, this Cubii leg exerciser keeps circulation going or helps you get a more strenuous workout by increasing resistance. It has a built in display monitor that allows you to view and track statistics such as calories, distance and more.
Easy to assemble
Whisper quiet
Durable
250 lb weight limit
Expensive
---
Key Features
Velcro closure
5 individual bags of weight
These Ankle Weights by Sportneer are perfect for a no-fuss seated workout for your legs. They are durable and can also be adjusted to work as wrist weights.
Since they are made of 5 individual sand-filled bags, the weight can be adjusted from 2 lbs to 10 lbs for increased resistance. If you have limited room under your desk these are great for you to work on your lower body strength.
Easily transportable
Easy to use
Affordable
Do not fit well around very small ankles
Bulky
---
Key Features
5 Bi-directional speed levels
Includes remote control
Non-slip pedals
The SITFIT Foot Pedal Leg Exerciser is a great seated exercise machine without super hard resistance levels. This makes it great for seniors, rehab or anyone that wants to get mobility without a overly strenuous workout.
It comes with a remote control so you don't have to stop your exercise and reach down to adjust settings. This is an excellent feature that we haven't seen in many desk pedal exercisers.
Pros
No assembly required
Easy to carry
Easy to read monitor
Cons
Tendency to slide on hardwood floors
---
Key Features
Electrical dual speed system
Compact & lightweight
The LegActivator Machine is designed ergonomically to keep your legs moving, thereby improving circulation.
This passive leg exercise machine allows you to improve circulation which prevents leg cramps, vascular problems and back pain. It works with any fitness level to burn calories and increase circulation.
Related Article: Best Nordic Walking Sticks For Seniors
The machine only weighs 10 lbs, so you can easily transport it wherever you go. It has two speed setting – 1,410 steps and 1,650 steps (both in 30 minutes time). This allows you to set it to your ideal comfort level.
Pros
Fun to use
Quiet
Adjustable speed settings
Cons
May be too slow for more physically active people
---
Key Features
Slip-resistant textured surface
Strong, natural wood construction
Anti-slip rubber grip bottoms
The Strongtek Balance Board is a great solution for those looking to elevate legs, feet and knees while sitting. It works by relieving pressure and improving circulation during long periods of being seated.
The balance board is also standing desk compatible. I was initially slightly leery to use it in a standing position but it was actually extremely sturdy and well-balanced.
This ergonomic balance board was designed by a former NASA scientist. The curved feet with anti-slip grips give you a secure feeling without having to worry about slipping or sliding.
Lightweight and portable
Affordable
Sturdy
Level of quality of the rubber leg grips is inconsistent
---
Key Features
8 Resistance levels
Anti-slip pads
Multi-function LCD display
The DeskCycle Under Desk Mini Exercise Bike allows you to have a great low impact workout at your desk. It is super smooth and quiet so you can focus on your task at hand – not the racket of a noisy machine.
The great thing about this machine is its versatility. Not only can you use it to work your leg muscles and improve circulation, but you can also place it on a desk and use it to exercise your arms!
Compact design
Easy assembly
Can work legs and arms
LCD display is not well-lit
Additional Information On Exercise Equipment For Your Legs While Sitting
We are providing the following information we feel you might need in order to gather more knowledge to be able to make the best purchase decision.
Who Is Seated Exercise Equipment For?
Under desk seated exercise equipment is usually sought after for people to use while they are at work. But this equipment can be used in other settings to benefits all kinds of users.
Elderly – It is a great way to get older adults a lower body workout who may have lost a bit of their mobility
Couch potatoes and binge TV watchers – Instead of Netflix and chill, you can be working on leg day while watching your favorite show.
Gamers – It is common for gamers to remain in the same seated position so long that their legs fall asleep! Get those legs moving as you make your way to defeat the final boss.
Students – For both home-schooled and traditional schools. Kids at a Virginia elementary school exhibited remarkable results after desk equipment was added to their classroom. Teachers noticed that the students were less disruptive and were able to sit and read for longer periods of time.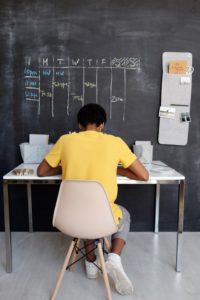 What Leg Exercise Machine While Sitting Is Right For Me?
In order to choose the best sitting exercise equipment, we will need to take a look at your main goal. Are you just looking to keep the blood flowing? Then you may need something as simple as a balance board under your desk.
Are looking for more of a gym type workout that burns calories? If so, you will need equipment that provides you with a cardio workout to blast away those calories. There are a couple of machines included in this review such as the DeskCycle that will serve this purpose.
If you are looking to get toned and strengthen leg muscles you will need equipment that provides resistance. Equipment that provides a weight component will be helpful towards this goal as well.
Frequently Asked Questions (FAQs)
1. What exercises can I do while sitting down?
One of the simplest exercises you can do while sitting is hip marching. With this exercise you are simply marching in place while seated in your chair. Hold on to the sides of the chair, sit upright and proceed to alternate lifting each leg with knee bent as far as comfort allows.
2. Do passive leg exercisers work?
If the user is elderly or otherwise sedentary, passive leg exercisers can be helpful. They do have some positive effects in terms of circulation and muscle stimulation, however, the level of exercise provided does not replace conventional exercise but instead can be an excellent supplement.
Check out this related article: How To Choose A Whole Body Vibration Machine
3. How can I increase circulation in my legs while sitting?
The easiest way to increase circulation to your legs while sitting is achieved through body positioning. Do not sit with your legs crossed as this decreases circulation to the legs. Instead, sit with both feet on the floor with your legs spaced slightly apart. You can also elevate legs by placing your feet on a stool to increase circulation.
Did You Miss Our Top Pick?
I have found that the Cubii Under Desk Elliptical makes the most effective use of my time by strengthening my lower body.
Our Final Thoughts On Leg Exercise Machines While Sitting.
We are glad to have helped you learn more about some of the available under desk exercise equipment for your legs. Also, we hope you found something you like among those reviewed. Finally, we hope you enjoyed reading the article!
Related Articles: