"As an Amazon Associate, we may earn commissions from qualifying purchases made through links in this post"
I have a fairly active fitness lifestyle, however, I become easily bored with the same exercise routines. When I came across plyometrics, I was immediately intrigued because it sounded like many of the exercises we performed when I served in the Army.
Basic running shoes were okay for Army physical fitness because the majority of the week focused on cardio, however, since I now wanted to commit to a new fitness routine, I knew I would need a pair of the best shoes for plyometrics.
A Quick Glance of the Best Plyometrics Shoes
Be sure to read through the entire article for detailed information on the above recommendations as well as additional information on plyometrics.
Best Shoes For Plyometric Workouts Reviews
To ensure that you select the best plyometrics shoes, we have compiled detailed research of some of the best choices.
Chances are that you may have never heard of the Inov brand, however, they are extremely popular amongst adventure seeking fitness athletes. The Inov-8 F-Lite 235 V3 shoe has recently been updated to provide even more comfort and natural movement. 
The graphene bottom grip ensures that you have excellent traction during your plyometric workouts. This is why we consider them the best shoes for box jumps. They are minimally constructed with elastic mesh liners that cradle your entire foot.
These shoes are great for those with wide feet or typically have issues with their toes crowding the inside of the shoe. This is because they have a wide toe box, giving the toes room to spread out naturally.
Pros:
Very stable, even when lifting heavy weights
Great for those with wide feet
Lightweight and flexible
Excellent grip
Cons:
Not good for running long distances
Runs small, may need to order a half size up
---
Did you know that the founder of Reebok created some of the first sets of running shoes with spikes in the 1890s? Such innovation only continued to grow over the years eventually leading to one of the best shoes for high intensity workouts such as CrossFit.
If you work with fitness programs such as P90X, Insanity and CrossFit then the Reebok Crossfit Nano 8.0 Flexweave sneakers will not disappoint. They were designed with input from the CrossFit community and battle tested to ensure ultimate performance for even the most demanding workouts.
The Flexweave upper construction of the shoe provides stability, durability and breathability. All of which are needed to keep you pushing during your fitness routines. The added cushioning to the forefoot as well as in the heel also serve to take away the sting from high impact plyometric exercises.
Pros:
Wide toe box
Flexible, yet durable
Firm heel grip when weightlifting
Cons:
Not the most visually attractive shoe
Uncomfortable if you have flat feet
---
Those with flat feet (fallen arches) know the importance of choosing shoes with good arch support. The New Balance brand has many sizing options, leading them to become a popular choice for those with foot issues.
The New Balance Minimus 20 V7 shoe comes in both standard and wide widths. The innovative REVlite foam compound in the midsole of the shoe provides comfortable arch support and adds a spring to your step.
The one-piece Vibram outsole provides the traction you need when performing plyometric exercises that require grip such as squat thrusts or burpees.
Pros:
Standard or wide width options
Great selection of colors
Lightweight
More arch support than most minimalist shoes
Cons:
Cut is a bit more narrow than most New Balance shoes
---
Although all the shoes in our review have a women's version, there is one plyometrics shoe we came across that was especially a hit among the ladies. They are especially popular with those that use Les Mills Grit plyo programs.
The Women's Reebok HIIT Training Shoe takes care of almost any issue you have when selecting a shoe for high impact workouts. You need your shoe to have a locked-in fit for jumps and speed burst exercises. The mesh upper collar of this shoe has a pillow that provides a snug, yet comfortable fit.
Do you perform workouts that include sharp turns and agility training? If so, you can feel secure during your routine as the mixed grip sole pattern provides traction in every direction.
Pros:
Good heel and arch support
Fits true to size
Comfortable and lightweight
Cons:
May need to wear thick socks if you have narrow feet
---
The quickest recourse many have with lessening knee pain during plyometric workouts is to purchase a good quality shoe such as this offering by Asics. This shoe is absolutely loaded with the necessary technology to make this the best plyometric shoe for those with bad knees.
Knee pain is reduced when the impact on the knees is lessened and through even weight distribution. This is accomplished when the footwear has a cushioned footbed and a firm midsole.
The Rearfoot and Forefoot Gel Technology Cushioning system feature diminishes the shock impact that knees experience during high impact exercises. There's also a premium sockliner that combines polyurethane and recycled rubber to provide additional cushioning, durability and comfort.
Pros:
Also great for running
Sturdily made
Great for those with high arches as well
Multiple cushioning technologies
Cons:
They run small, may need to order a half size up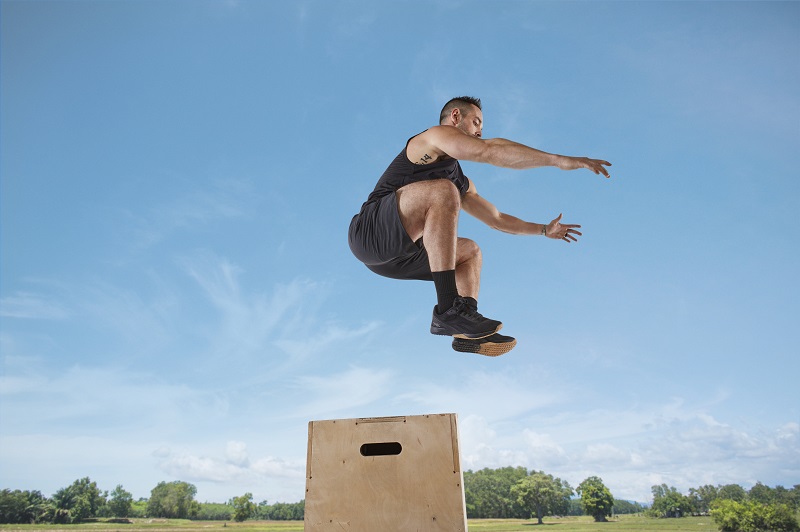 Plyometrics Training Definition
A US Olympic distance runner is credited with coining the term "plyometrics" after watching Soviet athletes execute jump exercises to prepare for their track and field events. During this time period, American athletes prepared by stretching. 
In the 1940s and 50s, Soviets were successful in many track and field events. Therefore, the US Olympian figured there was something to the Soviet athletes' methods. 
Many plyometric exercises require jumps and explosive movement. For this reason, it is advised that those recovering from injuries and fitness newbies not engage in plyometric training.
The explosive exercises are meant to elicit a response from the body's major muscles in short time intervals.  This type of training can increase strength and power. 
Plyometric Exercise Examples
Plyo push-up: Perform a regular push up, but when you come up exert enough force for both hands to leave the floor and quickly clap them together before you land.
Box jumps: A jump with both feet onto a 18" or higher large box.

Plyometric Jump Box
from: ProsourceFit
Tuck jump: Begin with feet shoulder-width apart, jump as high as possible bringing knees to your chest, extend legs back out to land in starting position
Power skipping: Perform regular skipping but lift the upper leg as high as possible with each skip.
Our Final Thoughts On Best Shoes For Plyometrics Training
In this article, we have reviewed several of the best plyometric shoes on the market. We have further provided the best options available for some of the more common specifications such as "best option for bad knees".
We hope that you've found the optimal shoe among those we've reviewed. The right footwear will have you well on your way to an effective and comfortable plyometric workout. 
Related Articles: