We can't control the air quality of the air outside. But luckily we can do something about our inside air with the use of an air purifier.  
We want fresh, clean air in our homes to eliminate odors, dust, bacteria and other allergens. However, with the nation steadily emerging from coronavirus and schools reopening, we also want purified air in our classrooms.
The best HEPA air purifier for classrooms and homes can give you peace of mind that the air you're breathing is 99.99% free of harmful viruses and bacteria. The best air purifier on the market that we found to give you the most peace of mind was the TRACS® Portable UV-C Air Purifier. 
My Review of the Best Hepa Air Purifier for Classroom and Homes
This air purifier covers up to 1000-sq ft of space. The average size of a U.S. classroom is 900 sq ft,  so the TRACS Air Purifier is just the right size to get the job done. If used in the home, the coverage is enough for most family rooms or any room that may need a particularly higher level of air filtration.
With a commercial quality unit you would think that this purifier would be extremely noisy. You'd be surprised to know that it operates quietly. It even has a "Whisper Mode" to ensure the operation sound does not disturb you as you relax or concentrate. This is especially a nice bonus if used in classrooms as any additional or extra noise can cause distractions.
The best HEPA air purifier for classroom and homes should have a solid warranty and this unit hits the nail on the head. For starters, it has a 30 day – 100% money back guarantee. It also has a lifetime warranty on the frame and a 5 year warranty on all other components. Pretty good right? Yes, we thought so as well.

The Best Feature of the TRACS® Portable UV-C Air Purifier:
The best thing about the TRACS® Portable UV-C Air Purifier is the multi-stage air purifier system. Well exactly what does this mean? In short, the unit works to purify your air, not by just one way – but THREE ways. Let's check each one out in more detail:
1. Medical-grade HEPA filtration
This works by trapping bacteria and viruses
2. Activated carbon filtration
Eliminates odors and gases
3. UV-C light technology
Disables viruses and bacteria
Best HEPA Air Purifier for Covid-19
The UV-C light (ultraviolet germicidal irradiation) technology may very well be the most important purification stage of this unit. Studies have shown that UV-C light such as the one deployed in the TRACS® Portable UV-C Air Purifier has been shown to inactivate airborne human coronavirus.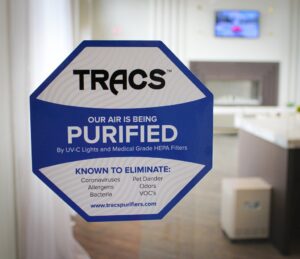 Any Negatives?
Let's face it. The TRACS® air purifier is not the cheapest air purifier you will find. However, if you want the best HEPA air purifier for classrooms and homes then it's worth the price, which I find to be a bargain for peace of mind. Besides, this is a solid steel, medical grade air purifier proudly Made in the USA with a great warranty. 
Additional Product Information and Features:
Indicator lights that alert you when to replace HEPA filter and lights

Easy to afford replacement costs for lights and filers

Whisper Mode operates at 54 DB

Free Shipping

Weight: 50 lbs

Purifies air every 20 minutes

Dimensions: 15.5″W x 15″D x 22″H

Available in four colors (sandstone, white, pink, black)

Our Final Thoughts on The Best HEPA Air Purifier for Classrooms and Homes
There were three key benefits that made the TRACS® Portable UV-C Air Purifier the best option.
Efficiency
You want an air purifier that will indeed improve the quality of your air and increase the safety of your environment. With the multi-state purification system odors are eliminated and harmful bacteria and viruses such as coronavirus are trapped and disabled.
Warranty
The test of a great product is the warranty offered by the company. Crappy products have no warranty at all or an extremely limited warranty. With this air purifier you're getting an incredible lifetime warranty on the frame and a 5 year warranty on everything else. Now that's outstanding.
Quality Construction
The TRACS® Portable UV-C Air Purifier is proudly Made in the USA. The outer frame is high quality and made of solid-steel. The frame is welded together and not cheaply assembled by screwing together each component. This is indeed a commercial quality unit that you can have in a classroom or home.