Unlike professional barbers who have all the skills and techniques needed to execute a perfect haircut, amateurs have little or no knowledge about barbering. However, one of the things that can help beginners achieve a perfect cut is a good set of hair clippers. While there are so many products on the market, there are those that make it easier for newbies to get a hang of cutting hair.
"As an Amazon Associate, we may earn commissions from qualifying purchases made through links in this post"
In this article, I will review the best hair clippers for beginner barbers, but beyond that, I will also be taking you through some factors that will facilitate a good choice while also answering some pressing questions you may have. So, what are you waiting for? Let's begin already, shall we?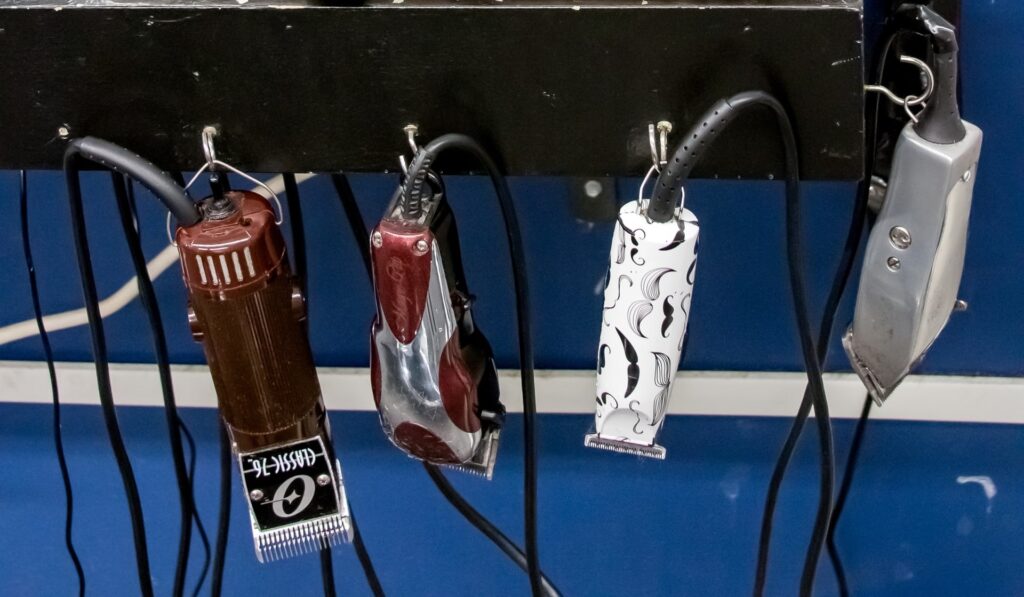 Comparison Chart of Barber Clippers For Beginners
Our Reviews of Best Hair Clippers For Beginners
Seeing as there are many products on the market with the same claim of being the best, I took time out to carry out intense market research and survey after which I was able to come up with the 5 best clippers easy for beginners to use. These products include the following:
Best Overall
Key Features:
· Professional precision cut
· Stylish and functional
· Necessary accessories for operational efficiency
· Lightweight for ease of use
We begin our list with the Wahl Professional 5-Star Magic Clip, a product that is recommended for use by almost every barber I talked to. It's one of the best cordless hair clippers you can find around and is not only ideal for cutting thick hair, but it is also suitable for blending and fades.
Also, it features high precision blades that do not overlap, with a taper lever to ensure easy blending and fading. It runs on a lithium-ion battery, giving it well over a 90-minute run. 
The product comes with necessary accessories including the clipper itself, 8 attachment guides, a charging transformer, blade oil, styling comb, brush, red blade guard, and an instruction manual.
Pros:
· Product is lightweight
· Features high precision cut
· Ideal for blending and fading
Cons:
· Outside housing could use an upgrade
---
Best Bang for the Buck
Key Features:
· Self-sharpening blades give increased durability
· Adjustable taper lever
· Color-coded guide combs
· Complete haircutting tool and kit
From the Wahl company comes yet another amazing product, this time it's the Wahl Color Pro Clippers. It features color-coded combs; this way users can easily identify which comb best suits their needs. It also comes with a variety of cutting lengths, hence you won't get hurt when the trim length is adjusted.
I like that the blades can be self-sharpened and are made of high carbon steel. This gives it a precision ground to enable it to stay sharper for way longer. 
Besides, the product is a 20-piece grooming kit, with 9 guide combs ranging from 1/16-inches to 1-inch making it suitable for different cutting lengths.So, if you are looking for hair clippers on a budget, you have a winner with this product.
Pros:
· It has a soft-touch grip for comfort and control
· It has a low price point
· Features various cutting length
Cons:
· Product is heavy
---
Best Hair Clipper to Shave Head
Key Features:
· Ergonomic design for all-day use
· Single-speed motor for heavy-duty use
· Protective house for ensures durability
· Textured covering for easy grip
If you are in search of the best hair clippers for a bald head, then you definitely don't want to miss out on this product. OSTER Classic 76 Clipper is well known for its long-lasting durability, powerful motor and heavy-duty performance. 
It comes with detachable blades along with lubricating oil, blade guard, cleaning brush and clipper grease. The single-speed clipper has been designed to cut any type of hair seamlessly and effortlessly. 
The product has a break-resistant covering; hence it has a long-lasting use. Also, its textured housing gives it an easy grip while also having a sleek, compact, and aesthetic design.
Pros:
· Its ergonomic design reduces fatigue
· It has long-lasting durability, powerful motor, and heavy-duty use
· It has an aesthetic look
Cons:
· Combs will need to be purchased separately
---
Best Hair Clippers For Fades
Key Features:
· Available in corded and cordless options
· Attachment comb gives consistent hair cuts
· Convenient switch control for ease of use
· The lightweight aluminum casing ensures durability
I asked around for one of the best hair clippers for do it yourself and Andis Master Adjustable Blade Hair Clipper was one of the top products recommended. 
This clipper is ideal for tapering and all-round cutting, its powerful, magnetic motor generates about 14000 cutting strokes every minute. It is consistently rated as one of the best clippers for black men. 
Its blades can be adjusted from fine to coarse sizes that range between 000 to 1. The product has an easy-to-use side switch, this ensures a one-hand on/off operation. 
With its unbreakable, lightweight aluminum casing, you are assured of its durability. Also, it comes with a user manual that guides beginners. 
Pros:
· Easy access switch for convenient operation
· It is lightweight and durable
· The instruction manual provides guidance for users
Cons:
· Gets hot after some minutes of use
---
Best Hair Clippers for Kids
Key Features:
· Ceramic blades for more precise cuts
· Silent, noiseless trimmer lower than 50 dB
· USB rechargeable and cordless
· Power battery indicator
Since kids need haircuts too, it's only right to have a suitable set of clippers for smaller heads and tender scalps. The Baistom Kids and Children Hair Clipper is that product you need for your child. 
It has an inbuilt battery that can be easily charged via USB cable, giving it up to five hours of use. I love that this product has a whisper-quiet operation, thereby ensuring that your child has a pleasant experience while cutting their hair. 
It features a display that shows the battery level, hence indicating when the unit requires charging. It is made of ceramic blades that can be self-sharpened, while the clippers can be easily detached and cleaned when there is a need for it.
Pros:
· Clipper can be used for a long time once charged
· Skin-friendly ceramic blade for fast and safe cutting
· LCD display for battery reading
Cons:
· May be too small for adult haircuts
Buying Guide for Hair Clippers for Beginners
It's not enough to purchase any clipper that catches your fancy as you may end up buying an ill-suited product. The following factors should be considered when making a buying decision:
1. Motor
It's important to consider the size and power of the clipper's motor as this determines a lot. Just as long as you have a decent blade, a powerful motor ensures a smooth, seamless, clean cut without having to grab or pull the hair.
Ideally, the price of the clipper determines the quality of the blade, which also determines the motor driving it. Thus, cheaper motors tend to burn out quickly while providing less power. 
2. Accessories
Accessories of the clipper is another factor that must be considered before making a purchase. All best clippers for beginner barbers should possess all or some of the following features:
· Blade guard (this keeps the blade a lot sharper for a longer time)
· Charging unit
· Instruction manual
· Comb attachment (this depends on the clipper model)
· Warranty
3. Blades
You need blades that offer precision and ease of cut as dull, cheap blades can lead to tugging and pulling of the hair, this makes it hard to get the exact cut you want and make barbering a lot more painful.
The blade should be sharp and strong and offer long-lasting performance. Because blades can easily get damaged when the clipper mistakenly falls, it's always good to have a spare one at hand.
Some of the common materials used in making a blade include carbon and stainless steel. Carbon often remains sharper for a long time owing to its self-sharpening ability, they are also easy to maintain. 
There is also titanium and ceramic. Ceramic is particularly good because it doesn't heat up even after prolonged use but is quite fragile while titanium, although good, has a higher price tag.
4. Overall Design
The overall design of the product should also be considered before making a purchase. There are products with an easy-to-access switch for ease of operation, while there are some with LCD displays to show battery level. There are also corded and cordless clippers as well as those with a durable, strong casing. All of this determines how efficient the clipper will be.
Also, consider the weight of the product, its ergonomics, and its grip. If it's too heavy you won't be able to hold it for too long, and when it falls, it might get damaged. Lightweight is recommended as this is easier to handle and operate.
FAQs on Best Hair Clippers for Beginners
Q: Is it better to use clippers on wet or dry hair?
A: Using a clipper on dry hair enables barbers to achieve an exact look. Shears, scissors, and razors work better on wet hair.
Q: Is it hard to learn to cut hair?
A: Learning how to cut hair can be an easy task if you take your time and do proper research. The difficulty lies in understanding the haircut angle and also how to blend the hair. YouTube offers plenty of videos offering great tutorials.
Q: Do hair clippers get dull?
A: Yes, hair clippers get dull. When this happens, they start to pull at the hair, giving it uneven lines. At this point, they will need to be sharpened.
Conclusion
Many aren't used to cutting their own hair or a family member's hair, but are willing to try. It's for this set of people that I have selected and reviewed the best hair clippers for beginners and beginner barbers.
There are options for all categories of people and for all types of haircuts including that of your kids. Having done a handy amount of research of this topic, all that's left to be done is for you to make a purchase. So, go ahead and buy one of the products in this article. Your new hair cut will be the admiration of all.
Check Out These Articles of Interest: