Beach cruisers have come a long way since the rickety scrap driven by the Wicked Witch of the West in "The Wizard of Oz". They not only look cooler but they are plain fun to take for a spin. 
But what about if you have a baby or a young toddler? Well, who says you can't go riding with your little one strapped safely and securely on the beach cruiser or bike? It is indeed  possible through the use of a child bicycle seat for beach cruisers.
In this article, we will be reviewing some of the best child bike seats for beach cruisers. 
CLICK HERE TO SEE OUR TOP PICK! 
It has great safety features like a childproof buckle. It is also designed to be used for ages 9 months to 6 years, so you will not need to spend money on a new bike seat every couple of years.  
Comparison Table of Top 6 Best Kid's Bicycle Seats for the Beach Cruiser
ADDITIONAL INFORMATION FOR BIKE SEATS FOR BEACH CRUISERS
We are providing the following information we feel you might need on bike seats in order to gather more knowledge to be able to make the best purchase decision.
WHO IS THE CHILD BIKE SEAT FOR?
Just like the name implies, the seat is for children. Parents, guardians or older ones use these seats to give the kids a safe 'biking experience'. 
They are mainly for kids aged 9 months to 6 years old. After age 6 they are usually ready and able to be a "big" kid and ride on their own bicycle!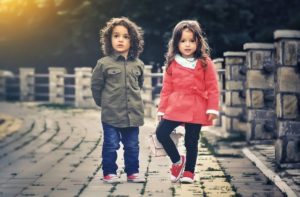 BENEFITS OF USING A CHILD BIKE SEAT FOR BEACH CRUISER
The major benefit of using the child bike is of course safety.  It is unsafe to expect a small child to be able to hold on to the bike rider or a portion of the bike to avoid falling off. 
Also, being a kid passenger in a child bike seat is a ton of fun! They can enjoy the sights and be able to go a little faster than if they were on their own trike.  
Besides, it also creates a better bond between the parent or guardian and the kid as they enjoy this fun family activity.
FRONT MOUNTED CHILD BIKE SEAT VS. REAR MOUNTED VS. TRAILER
Bike seats for beach cruisers come in 3 forms. They are; rear mount, front mount and trailer bike seats. 
Front Mounted 
Front mounted seats fit right in front of the bike. This allows you to see your child more easily and talk with them. 
They can give your little one a great view of the road. On the contrary, this also means that they will be in full face of the wind. 
Rear Mounted
Rear mount child bike seats work by fitting the seat behind the rider. For a beach cruiser, this seat will attach to typically attach to the rack or seat post. 
Trailer
However, they are usually not able to be used until a child is able to sit upright without you right next to them. Also, if you have a couple of kids there are 
2 child trailers
 that allow both tots to enjoy the ride together.
HELMETS ARE STILL NECESSARY FOR KIDS IN A CHILD BIKE SEAT
REVIEW OF THE BEST CHILD BIKE SEATS FOR BEACH CRUISERS
To ensure that you go home with a good product, we have compiled detailed research of some of the best child bicycle seats for beach cruisers. Check them out below.
"Best Child Seat For Cruiser Bike"
KEY FEATURES
Rubber Material
5-point Safety Harness
Rear Mount
48.5 Pounds Weight Capacity
The Thule Yepp Maxi Child Bike Seat Is a rear mount bike seat for kids between the ages of 9 months-6 years. Of all the seats we reviewed, this is the best child seat for a cruiser bike.
This bike seat is made from durable and flexible rubber with shock-absorbing capabilities. In light of this, we assure you that the kid riding with this bike seat will experience a smooth, less-bumpy ride.
Not to mention, it has a 5-point harness with a childproof buckle. The work of this buckle is to protect the kids on the bike seat. 
Also, with its soft shoulder pad, the kids are not only safe, but they are also more comfortable too. We also like the fact that the bike seat has an adjustable strap which further improves the kids' safety.
Furthermore, it has a built-in reflector which as we all know is also good for safety. Again, the bike seat is water-resistant and it is easy to clean. 
Coupled with that; it is also anti-bacterial which means the kid won't come in contact with germs with this bike seat.
Pros
It is shock absorbent

It has a child-proof buckle

It is water-resistant

The seat is comfortable

The seat is anti-bacterial
Cons
There have been complaints of the seat rubbing against the bike rider's leg
"Great Reliable Bike Carrier For Kids"
KEY FEATURES
Rear Mount
Quick Release System
One Hand Adjustability
Age Group Of 9 Months to 6 Years
Padded Shoulder Harness
Anti-Theft Bracket
The Hamax Caress Child Bike Seat is a worthy contender for the best child bike seat for beach cruisers. It is suitable for kids between ages 9 month- 6 yrs with a maximum weight of 48 pounds. 
This bike carrier for kids is rear-mounted and we found out that it has some cool features. First, it has an ultra-shock absorbing frame which makes the ride more pleasurable for the kids.
Also, it has a 20-degree recline feature that provides comfort for the kid while napping. It has an ergonomic head positioning feature which also helps to keep the napping baby comfortable. 
Furthermore, for better safety, the seat has a shoulder harness that is 100% childproof. In light of this, you do not have to worry about your kid falling off the bike.
Also, we call this child bike seat a universal bike seat because it fits perfectly on most of the bikes out there. Not only that, it is easy to mount and quick to release. 
We also like its anti-theft lock which assures the user that it won't get stolen when left unattended to on bikes.
Pros
100% child-proof harness

It is suitable for most bikes

It has an ergonomic headrest design

Features an anti-theft lock

It has a super shock-absorbent frame
Cons
"Awesome Up Front Kid Bike Seat"
KEY FEATURES
Made from rust resistant aluminum and stainless steel
Front Mount
38 Pounds Weight Capacity
The iBert Child Bike Seat is a front mount bike seat for kids between the ages of 1-4 years old and weighing up to 38 pounds. 
This bike seat is made from durable and rust resistant aluminum and stainless steel. In light of this, we assure you that the kid riding with this bike seat will experience a smooth, less-bumpy ride.
Not to mention, it is center mounts on the beach cruiser which provides a better center of gravity. This feature allows increased mobility for the bike rider. 
The innovative design positions your child safely behind the handlebars and between your arms. This up front kid bike seat ensures you have your kid close and allows for better communication.
Furthermore, it has a fun padded steering wheel which allows your child to feel like a big kid involved with the ride.  The padded steering wheel also doubles as a nap pad. 
Coupled with that; it is hands down one of the easiest seats to assemble and install. The patented T-bar system allows you to have the seat installed in less than 3 minutes.
Pros
Easy assembly
Padded steering wheel to keep child entertained
Quick install

The seat is comfortable

Sturdy
Cons
Tall riders knees may bump seat when pedaling
"Urrider Child Bike Seat - A Great Front Mount Seat You Should Consider"
KEY FEATURES
Front Mount
Aircraft Grade Aluminum Material
Age Group Of 2 Years To 6 Years
Foldable
Second, on our list is the UrRider Front-Mount Child Bike Seat. Just like the name implies, this is a front mount bike seat. 
The seat is designed for kids from 2 years to 6 years old. Also, the height and weight limit of this seat are 4.1 feet and 110 pounds respectively.
With its aircraft-grade aluminum material, rest assured that this is one seat that will stand the test of time. One feature we found interesting about this seat is that it is foldable. 
Not to mention, it weighs only 2 pounds which further makes it easy to carry. Besides, it comes with a free bag that you can keep the seat in when not in use. Cool right? We think so too.
Furthermore, the manufacturers made it with kids' safety in mind. This is why it has a U-shape handrail frame and an anti-slip design for better protection of your child. 
Pros
It is lightweight

It is foldable

It is durable

It is easy to install

Ant-slip saddle
Cons
Only suitable for the cruiser, foldable and city-shared bikes
"Best Bike Trailer For Kids"
KEY FEATURES
Max Weight Of 100 Pounds
2-Child Trailer
Steel Construction
Collapsible
Inflated Wheels
The Allen Sports Deluxe Steel Child Trailer is lightweight and it is one of our favorite child bike seats. It has a steel construction which allows it a max weight capacity of 100 pounds. 
Not only that, it is a two-seat trailer/bike carrier for kids. This gives you the luxury of taking two kids out for a bike ride together.
Furthermore, it has different protective measures for the kids. Some of which include; a foot guard and a safety harness for the two kids riding in it. 
It also has a safety flag and helmet included in the trailer's package. Also, each of the seats in the trailer is shock absorbent which gives the kids a more comfortable ride.
Moreover, it also has a collapsible folding design and quick-release wheels for better safekeeping and transportation.
Pros
It is lightweight

It can carry two kids together

It has a safety harness and foot guard for safety

Shock absorbent
Cons
"Most Comfy Front Bike Carrier For Toddler"
KEY FEATURES
Front Mount
Adjustable footrest
One-Click Installation
3-Point Harness
Innovative Mounting Bracket
The next child bike seat on our list is the impressive Peg Perego Orion Front Mount Child Seat. This bike seat is suitable for bikes with a frame of 32mm to 52mm.
Besides, it has a one-click installation system that helps eliminate the hassle of mounting children's bike seats.
Also, it is suitable for kids that are at least 12 months old but only until their weight hits 33 pounds.  It has an adjustable footrest that can be adjusted to suit the kid's frame or build. 
Again, with its 3-point adjustable harness, rest assured that your kid will forever be safe while on this bike seat.
Pros
It is durable

It is easy to install

It is safe

It is comfortable
Cons
Children below the age of 1yr can't use it
"Great cruiser bike seat for 1 year old to 5 years old kids"
KEY FEATURES:
5-point harness system
Rear reflector to increase visibility
Rack mounted connection
The Burley Dash Child Bike Seat is a rack mounted system designed with safety in mind.  The installation is tool-free and fast, allowing you to quickly get on with tandem rides with your little tike.
This seat system is one of the sturdiest in our review and definitely offers you peace of mind in regards to safety. Your child will be safely secured in the adjustable 5-point harness as well as the security straps integrated into the footrests.
The bike seat is suitable for ages 12 months to 5 years. However, please note that regardless of age, your child must not exceed the weight limit of 40 lbs. The Burley seat is loaded with thoughtful features such as a rear storage compartment for smaller items and removable washable seat padding.
Pros:
Easy, tool-free installation

4 position adjustable footrests

High quality, lightweight construction
Cons:
Requires a rack for mounting

Does not recline
"Premium Bike Buggy for Baby & Kids"
KEY FEATURES
Padded Seating
Rear Cargo Space
Collapsible
Five-Point Harness
The Burley Encore X Child Trailer & Stroller can accommodate one or two kids. This double-seated trailer has a total weight capacity of 100lbs. You get more bang for your buck as you can optionally convert it to a stroller with the included 1-wheel stroller kit.  If you are looking for a premium bike trailer this is the one for you. 
The trailer attaches easily and the sturdy 20"  wheels are quick-release. Both features allow for swift assembly and storage once your ride is complete. And even better, the frame folds down quite compactly when stored, so it won't take up a lot of room in your storage space.
This trailer is loaded with safety features such as the five-point harness and the included safety flag.  Also, the UV protected windows block 98% of UV light. The trailer also has a full internal aluminum roll cage for protection in the event of an accident. 
Pros
Easy to assemble

Great suspension

Reflective materials for visibility

Sturdy
Cons
What About A New Beach Cruiser Bike Seat for Mom or Dad?
Many of us can attest to the discomfort of a standard beach cruiser seat. I can still feel the memory of the sore bum I had from my old beach cruiser bike seat before I purchased a replacement seat. So along with your new child bike seat for the beach cruiser, get yourself a new beach cruiser seat as well. There are many on the market that give you a comfy landing spot.
We are glad to have helped you learn more about kid's bike seats for beach cruisers. Also, we hope you found a child bike seat you like among the 6 we reviewed. Please, ensure you pay attention to the age and weight limit of these seats before buying one. Finally, we hope you enjoyed reading the article. Happy biking!